Caressing emoticon
These are the caressing emoticons we have. We found 3 results. All of our caressing smileys are free to download.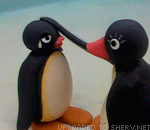 Pingu's mommy really loves him a lot!
Added on 29 December, 2012
Filename: pingu-crying-smiley-emoticon.gif
File size: 347097 bytes
Rated 4.08 from 36 votes
32 frames measuring 150 x 130 pixels

This is an image of a smiley face with its hand on an insect.
Added on 06 February, 2014
Filename: smiley-face-and-insect-emoticon.gif
File size: 1675 bytes
2 frames measuring 64 x 31 pixels

This image is two smiley faces embracing and hugging.
Added on 07 February, 2014
Filename: hugging-smiley-emoticon.gif
File size: 79453 bytes
Rated 4.03 from 50 votes
44 frames measuring 104 x 59 pixels