Big heart emoticon
These are the big heart emoticons we have. We found 2 results. All of our big heart smileys are free to download.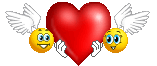 Two cupids hold a giant heart.
Added on 30 October, 2011
Filename: cupids-with-heart.gif
File size: 17694 bytes
Rated 4.26 from 47 votes
4 frames measuring 157 x 66 pixels

In this image is a heart, a black heart, all dark because of apparent loneliness, or a because it is alone.
Added on 02 February, 2014
Filename: black-heart-smiley-emoticon.png
File size: 2059 bytes
1 frames measuring 116 x 110 pixels