Aww yea animated emoticon
These are the aww yea emoticons we have. We found 2 results. All of our aww yea smileys are free to download.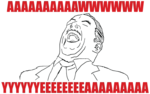 This is a contour drawing of an image of Jonah Jameson (Peter Parker's boss in Spiderman 2).
Added on 03 November, 2012
Filename: aww-yeah-meme-smiley-emoticon.png
File size: 16842 bytes
Rated 3.86 from 11 votes
1 frames measuring 150 x 94 pixels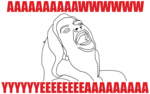 This is obviously the female version of the Aw Yeah Guy from Internet meme emoticons.
Added on 03 November, 2012
Filename: female-aww-yeah-smiley-emoticon.png
File size: 15133 bytes
Rated 3.56 from 9 votes
1 frames measuring 150 x 94 pixels