Free are you serious emoticon
These are the are you serious emoticons we have. We found 2 results. All of our are you serious smileys are free to download.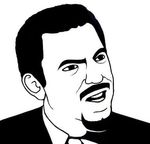 "Are You Serious?
Added on 03 November, 2012
Filename: r-u-serious-meme-smiley-emoticon.jpg
File size: 7523 bytes
1 frames measuring 150 x 144 pixels

This comic face is taken from a scene from a debate between David Silverand and Bill O'Reilly on Fox News.
Added on 03 November, 2012
Filename: seriously-meme-smiley-emoticon.jpg
File size: 3224 bytes
1 frames measuring 100 x 100 pixels