Free are you mad troll emoticon
These are the are you mad troll emoticons we have. We found 1 result. All of our are you mad troll smileys are free to download.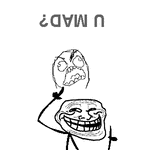 Here we got an animated rage comics meme emoticon showing the Rage Guy in the center shouting and completely enraged by the troll guy who is dancing around while asking his famous question: U Mad?
Added on 08 November, 2012
Filename: u-mad-troll-smiley-emoticon.gif
File size: 204157 bytes
Rated 4.67 from 124 votes
63 frames measuring 150 x 150 pixels